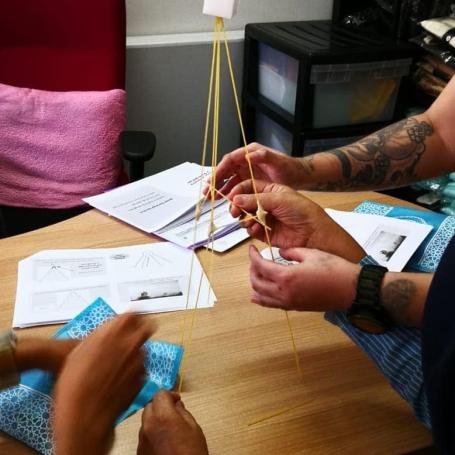 PPSEAWA Singapore named its first project, Tapak Ibu (or A Mother's Footsteps in English), to recognize the sacrifices of all mothers in giving birth. These mothers whom we fondly termed as Supermoms, deserve the best of life but in reality, the environment they are in may provide an opposite condition. When "COVID-19 Circuit Breaker" started in Singapore since April 2020, many Supermoms were affected and became more vulnerable as they or their husbands lost their jobs and did not have enough savings to tie them over this period.
With help from local partners in the social services sector, PPSEAWA SG identified and adopted a total of 14 Supermoms in May 2020. Each woman has less than S$500 per capita income, and all were living in 1-room or 2-room government rental flats, with between 1 to 8 children.
PPSEAWA SG's program assists our vulnerable Supermoms along with their children in two phases, i.e. giving our Supermoms the Fish in Phase 1, and providing them with the guidance to Fish in Phase 2.
Tapak Ibu program: Phase 1 - Basic needs (May 2020)
We provided them with a temporary financial relief to help them and sustain their families for the next 6 to 12 months depending on how they will spend this relief money. We reached out to them for spending guidelines.
13 Supermoms received an outright cash donation each as well as meals and clothes;
We assisted 9 Supermoms who qualified to apply for government grants for

COVID

-19 relief worth S$9,000 total.
Tapak Ibu program: Phase 2 - Training & Education (July 2020)
We started guiding our Supermoms on how to fish in the phase-2 of our program on 25 July 2020, for the 1st group of 6 (limited participation due to the ongoing restrictions imposed by COVID-19). It consists of 8 sessions of financial empowerment including group and individual training for goal setting, money management, mental health awareness and one-to-one mentoring. The outcome that we hope to see is for our Supermoms to be competent and financially independent with the right attitude and skills in money management.