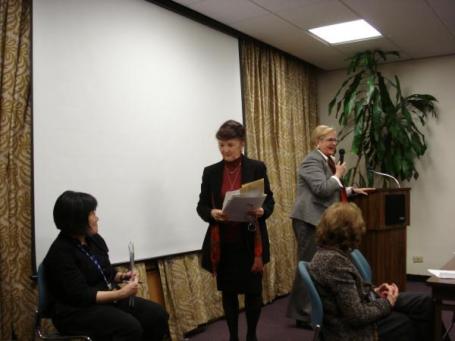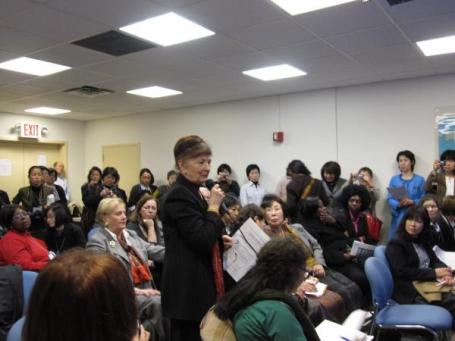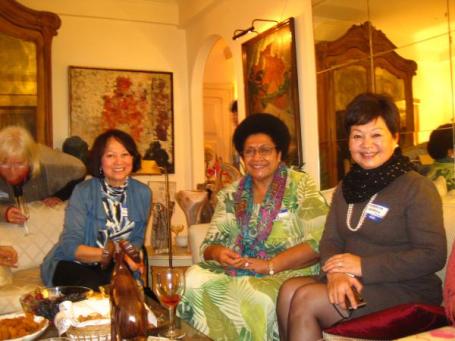 Consultation Day was the "kickoff' for the CSW 56th Forum, entitled "Empowering Rural Women; t heir needs and struggles as well as their successes". Michelle Bachelet, Executive Director, UN Women, was the speaker.
PPSEAWA played a major role this year at the CSW 56th. We, out of 290 NGOs world wide, co-sponsored 2 different events at this two-week Conference. PPSEAWA International's main presentation "Girl's Safety: In the Home, Community and Schools" was due to the the leadership and perseverance of PPSEAWA International UN Rep, Eleanor Schlesinger, Committee member of the UN Working Group on Girls (WGG), PPSEAWA International President Teresa Hintzke was one of three speakers at this event, informing a large audience about some of the PPSEAWA National organization's projects that focus on Girl's Safety in varied surroundings, as well as sharing her own personal experiences as a young girl moving from country to country.. The second and third speakers were Professor Shang- Luan Yan from Taiwan, speaking for the second consecutive year, and Mrs. Santos Pais, Special Rep. of the Secretary General of the UN, on Violence against Children.
In addition, PPSEAWA Japan's President Kazuko Kano served as the moderator for "Women's Role in food Security and sustainable Development: Partnership between Rural and Urban Women" and Mondhiya Bhangsbha, PPSEAWA International Director, served as moderator for an Asia Pacific Woman's Watch sponsored event also entitled "Girls, Safety:At Homes, Community and Schools".
Attending our "Girl's Safety" event were 28 PPSEAWA sisters from the Japan, Hawaii, Thailand, Taiwan, and USA, chapters, including a large contingent from the PPSEAWA NY Board.
A major part of our success at the forum was attributable to our NY Youth Representative, Lily Liu. She participated fully in the planning of our "Girl's Safety" event. In addition Hee Jung Yoon, last year's NY Youth Representative, was in attendance. This continuing relationship with our young girls represents our future as an effective organization.
All the PPSEAWA attendees at the CSW Forum were able to get together at a reception hosted by PPSEAWA International and the PPSEAWA NY chapter. In attendance was also Dr. Jiko Luveni, Minister for Social Welfare, Women and Poverty Monitoring, from Fiji, which gave us the opportunity to discuss with her plans for our next International Conference in Fiji in 2013.
Next year's CSW 57th Forum theme will be "Elimination and prevention of all forms of violence against women and girls." Your support and participation is vital to further the objectives of PPSEAWA: "to strengthen the bonds of peace by fostering friendship and better understanding among women in all areas of the Pacific and South East Asia, to promote cooperation among women of these regions for the study and improvement of social, economic and cultural conditions."